With the tears still remaining in our eyes and heart, we thank God for the comfort that we can find in the pain that we still have from losing you. We now know why God gave us pain, for it is a wonderful gift. Without the love that we will forever retain in our hearts for you, we would have never felt nor understood the pain. We thank God for all the wonderful memories that you gave us, for they will remain locked in our hearts forever. From your first ride home from Wesley Hospital to the final football game you played at Remington High School. It's through this deep love that we both have for you that has driven me, your father, to search and turn to the God of your soul to find you. In the process, however, I found the Father, our heavenly Father and His Son, that has given us life through the life of His Son. Although your time with us was so short, it has made a profound difference in our lives and the lives of others. I remember that last evening we had together. We had gone shopping at Wal-Mart and from a distance I observed you pointing out to your mother the pros and cons in selecting a Nintendo game for you and your brothers. What a wonderful memory of the close relationship you had with your mother.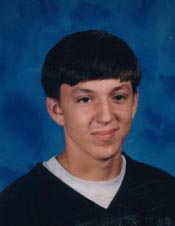 A very special "Thank you, my son" for your help in spreading that tarp over that tall stack of straw bales. I cherish this memory so much, remembering this time together, how I warned you not to step too close to the edge. I remember the next morning, your mother asking me to give you some spending money before you left for school. I remember seeing you hurriedly reaching for the five-dollar bill that I held out to you . I know you never got to spend it, for it was found it in your jeans after the accident.
Your mother and I miss you so much! There's never a day that we don't draw from the comfort of our memories of you. I am so grateful to God for giving us this gift called love because now I know and understand the love He has for us and also the pain He experiences when a soul is lost into eternity without Him. I personally know and feel my heavenly Fathers tears as I know His business is the reaching for the lost and those in desperate need. It is my desire to join Him in His business by doing whatever His will.
I am so very thankful for His plan that is in place so that we can be reunited together with Him on a new earth where love and righteousness dwells. I do want to stay as long as I can on this earth, demonstrating the joy that I have found in finding the truth, so others can also find and enjoy the hope that is found within the presence of our Lord. The Scriptures teach us that Jesus had a body after His resurrection and I place comfort in the hope and belief that you, Joel, now have a similar body that your mother and I can squeeze and hug very hard on that Day! What a day that will be when my family can be reunited once again, in His presence in eternity, without the sorrows of sin and death.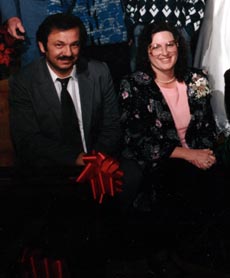 2 Peter 3:13. Nevertheless we, according to His promise, look for new heavens and a new earth in which righteousness dwells.
Luke 24:39. "Behold My hands and My feet, that it is I Myself. Handle Me and see, for a spirit does not have flesh and bones as you see I have.''
1 Thessalonians 4:13. But I do not want you to be ignorant, brethren, concerning those who have fallen asleep, lest you sorrow as others who have no hope. 14. For if we believe that Jesus died and rose again, even so God will bring with Him those who sleep in Jesus. 15. For this we say to you by the word of the Lord, that we who are alive and remain until the coming of the Lord will by no means precede those who are asleep. 16. For the Lord Himself will descend from heaven with a shout, with the voice of an archangel, and with the trumpet of God. And the dead in Christ will rise first. 17. Then we who are alive and remain shall be caught up together with them in the clouds to meet the Lord in the air. And thus we shall always be with the Lord. 18. Therefore comfort one another with these words. AMEN !!!