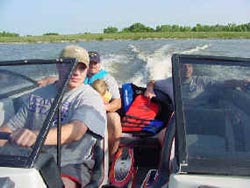 My name is Wayne Eck and I was born and raised on a farm near Wichita, Ks. My wife and I own a small welding and fabrication business. We have three sons, our oldest is married with three children, our middle son, graduated from K-State, and is married with one child, and our youngest son, also graduated from K-State Salina, and is married with two children. We have a passion for life and enjoy the life that God has given us. Tragically in 1992 we lost our 15 year old son to a semi-truck/pickup accident.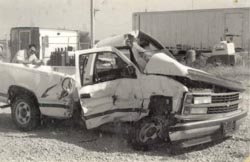 However, God used this tragedy to get my undivided attention. In my trying to cope with the loss of our Son, I turned to Lord God for help and began studying the bible. I soon began to find tremendous comfort from the presence of the Lord and the understanding that God gives to those that seek. I soon found a deep passion for studying the Scriptures, searching for all the truth in the things pertaining to God and the gospel of Christ. The relationship that I have found within the fullness of God brings strength and understanding in my life.
I must say, what I've found is most worthy to be shared with anyone that has a need for divine spiritual direction, in this life. Also, I would like to share that I didn't begin this by searching for religion, but God! But thanks be to God for He did provide us a way to sort out "all truth" and that, of coarse is through His Holy Spirit.
Today, I speak out because I've personally experience and publicly proclaim that God speaks to us through His Holy Spirit and when we realize His Word in our heart, that has got to be one of the biggest miracles ever to of been given by God. It certainly came with the largest price ever to be paid, the sacrifice of His own Son, Jesus, so we could be reconciled into His presence. God has given us life and I am very grateful for that but to be in continual communion within the fullness of God, through His Spirit, within our soul, has got to be one of the greatest blessings ever to be realized and cherished throughout our entire lives. There are no qualifiers needed for anyone to receive this wonderful gift except a repentant heart and a desire to personally know the Lord and be in communion with God, through His Spirit. When you find that desire, you're already in repentance, and the Holy Spirit is already doing a work in your heart. No one is excluded from this precious gift, if they're willing to turn to God for personal direction. One does not need some form of high education to understand God's personal direction and presence for He has a "Way" of giving you the understanding that you need. Realizing the Lord God's divine presence has inspired me to share with anyone that's interested.
Hebrews 11:6. But without faith it is impossible to please Him, for he who comes to God must believe that He is, and that He is a rewarder of those who diligently seek Him.